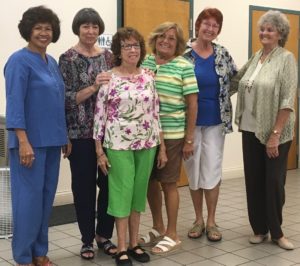 The April 25th Fashion Show by Bon Worth was a great success! Those that attended enjoyed a fun Turkey Shoot card game, a delicious lunch, an entertaining fashion show and lots of door prizes. Soooo many people to thank! In the kitchen- Susie Dyer, Phyllis Principe', Marianne Sinclair, Joan Spencer, Trudy Poppiti, Cynthia Ripley, Jill Blakeway , Joyce Scafidi.
Table decorations – Trudy Popitti & Barbara Hessler; Turkey Shoot Game – Terry Mellon & Anna Fake; Check in & 50/50 sales – Betsy Haff and Joanne Everett; Set up, serving & clean up – All of the names mentioned!!! Thank you to our models who did a wonderful job! Rita Yahm, Mary Ann D'Areminio, Marie Clayborne, Gigi Kunigionis, Marianne Sinclair & Trudy Poppiti. Thank you to Cate Witmer for displaying her handmade jewelry and to Donna, Janet, Jo & Vicky from Bon Worth.
A very special thank you to the SB Recreation Dept. for their continued support of the 55+ Club and thank you to the Public Work staff for putting up and taking down the tables and chairs.
I regret not developing my photographic memory!